Time to read and write messages
The average time to write an e-mail message is about 4 minutes, and the average time to read a messageis about half a minute. It thus takes about eight times as long to write as to read messages. This means that if all messages had exactly one recipient, then people would spend about 90 % of their e-mail time writing messages, and only about 10 % of the time reading messages.
In this situation, very few people would be overloaded with too much e-mail.
Thus, a major cause of information overload is messages with more than one recipient. It is often not much more difficult to send a message to ten or a hundred or even more recipients, than to send a message to only one recipient.
Written
communication:

3.6 minutes
writing

11x0,5 minutes
reading

Total time
3.6+11x0.5=
9.1 minutes

Face-to-face meeting:

1.2 minutes
talking

11x1.2 minutes
reading

Total time
12x1.2=
14.4 minutes
Multi-recipient messages
To understand why people get too much email, one starting point is thus messages sent to many recipients, since without them, very few people would have problems with too much e-mail. There are different kinds of such messages:
Personally addressed messages: Messages sent to a named list of recipients, often in reply to previous messages sent to the same list.
Mailing-list messages: Messages sent via a mailing list. Mailing lists can have hundreds or thousands of members, but sending a message to a list is as easy as sending a message to a single recipient.
Spam: Messages sent to a large number of recipients who have no particular relation to the sender, or who do not want to get these messages.
In addition to these categories, also messages with only a single recipient can cause problems, but only for a few very popular people or organisations, to whom many want to send e-mail. For an average person, messages with a single recipient can seldom cause overload problems, because it takes so much longer to write than to read a message.
Too much personal e-mail
Personnally addressed messages, where the sender manually added your address as a recipient, do not usually cause too much of overload problems. Problems with personally addressed messages usually occur when the sender did not manually add your address as a recipient, for example replies which the sender sends to all recipients of a received message.
If this is a problem, you can reduce it by not always answering every message, and by limiting the number of recipients of messages you send, since multi-recipient personally addressed messages are often replies to previous such messages.
Filtering of messages from mailing lists
Mailing list messages can be sorted with a filter, that filters each mailing list to a separate folder. This does not reduce the number of incoming messages, but makes them easier to cope with. You can read the folders in your own priority order, and it is easier to skip less interesting messages if you see them in a separate folder for each mailing list.
Here is an example of a filter in Eudora, which will filter all messages from a certain mailing list to a special folder for that list: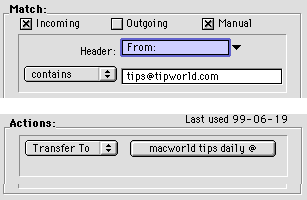 In the example above, messages from the mailing list are recognized by the "From:" header. Sometimes, you can instead recognize the mailing list from the "To:" header, the "Reply-To:" header or other special headers. The best way to find which header to filter on is to look at some of the messages from the list, and see which headers are common to all of them. Some mailers suppress some technical header, which you normally do not want to see. You might need to ask for all headers to be shown, before selecting which header to filter on. Most mailers have a command with which you can ask for the full list of heading fields in an incoming message. In Eudora, for example, you ask for all headers to be shown by pushing the "BLAH BLAH BLAH" button:

RFC 2369 specifies some new headers, especially for messages coming from mailing lists: List-Help, List-Subscribe, and List-Unsubscribe. These headers can tell your mailer that messages come from mailing lists, so that the mailer automatically filters them to particular folders. But very few mailers support this feature today (June 1999). RFC 2919 specifies another useful heading field, List-Id, which also is used by many mailers to indicate which mailing list sent you a certain message. Most mailing list systems support at least some of these headers.
When someone replies to a message from a mailing list, the reply is often sent twice to the author of the previous message, once directly to his e-mail address, and once through the mailing list. Good e-mail software should be able to detect and eliminate such duplicates, but few e-mail systems have this facility today.
The sender of a reply can avoid this problem by editing the recipient fields in the outgoing e-mail, to send it only to the mailing list, not to any individual names. This should also be handled automatically by e-mail software, but support for this is not common today. Most e-mail clients do not, today, know which mailing lists you subscribe to.
Coping with spam
There is no good way to entirely avoid spam, but there are ways to reduce the problem. If you get unwanted mail repeatedly from the same source, such as a company, where you are a customer, you can recognize them with a filter, and the filter can automatically move them to a spam folder or delete them. Below is an example of a filter to sort all messages, whose subject begins with "Amazon.com" to a spam folder. This works because the marketing messages from Amazon all have such subject lines: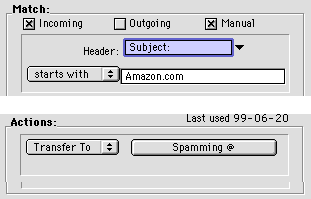 Another tool to avoid spam only works if you first set up filters for all mailing lists, as described above. You can then set up a filter which checks if you, yourself, is mentioned as a recipient in the message heading. Below is an example of such a filter: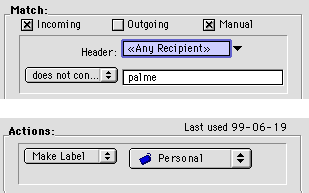 This filter checks if my name is mentioned in any recipient header of the message. If this is not a case, the message is filtered. This works, because most spam messages do not have your name in the heading recipient fields. But messages, which you get from mailing lists, also usually do not have your name in the heading. Because of this, this filter only works if you also have mailing list filters. If you employ this technique, it might be better to apply this filtering rule after all the mailing list filtering rules (since you probably do not want all messages in the mailing list folders colored blue).
This method is not 100 % safe. Some non-spam messages may also arrive without your name as recipient in the heading fields. Because of this, you may chose to not filter these messages to a special folder or to the wastebasket, but just to mark them. The example above uses the "Personal" marking of Eudora, because it gives a blue color to the lines with filtered messages, as shown by the example below: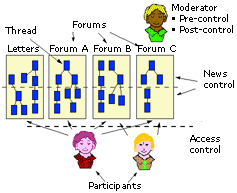 You can easily see which messages do not have yourself as recipient in the listing above, because they are blue in color, and this makes it easier to manually remove these messages without reading them. But if an occasional message is wrongly caught by this filter, you can see this and not remove such a message.
There are also some anti-spam filters which your mail server can set up, but which is usually not possible in a mail client. For example, a server filter can check if the sender of the e-mail has a vaild domain. (Checking for a fully valid e-mail address might be done using the VRFY SMTP command, but this does not work, since many companies do not support that command for security reasons).
Anti-spam features for mailing lists
Another kind of anti-spam filter, which is done by some mailing list software, is to recognize multiple copies of the same message, sent to different mailing lists.
Another common method to avoid spam through mailing lists, is to stop contributions from non-members of the list. If you are the moderator of a mailing list, and want to allow non-members to contribute, but still want to stop spam, you can make the list "moderated" for submissions from non-members, i.e. require that the editor of the mailing list must check all contributions by non-members before sending them to the list. With LISTSERV mailing list software, you do this with the two commands
"Send= Editor,Hold" and
"Editor= jpalme @ dsv.su.se (MHTML)"
where the text inside the parenthesis (MHTML) must be the name of the mailing list. This says that all members of the list are "Editors" and can submit to the list, and that submissions from anyone else are sent to the main editor (jpalme @ dsv.su.se) for approval.
Using filtering to avoid spamming cannot work perfectly, because if one such method gets used by many people, then the spammers will design their messages so that they are not caught by the filter. More reliable filtering against spamming might work in two ways:
Manual recognition of spams and removal of such messages. The first person in a group of people who trust each other markes the message as spam, and this information is made available in a data base to the maílers of other people. Such filtering is called collaborative filtering. It may require a way to remove already delivered messages from the recipient's mailboxes. This is not very common in e-mail for security reasons, but in Usenet News, NoCeM uses this method.

Requirement by law that all advertising through e-mai must be marked as advertisement in a way which can be recognized by filters. Preferably, the mark should also distinguish between different categories of advertisements, to allow the recipient to filter according to personal preferences.

Establish stop-lists of e-mail addresses of people not wating spam. This method has, however, fallen into disrepute, because some such lists are used for sending spam, not for stopping spam.
Very popular people or companies
As I described above, most people cannot on average be overloaded by single-recipient personal messages, because of the much longer writing than reading time. However, certain very popular individuals or companies can still get overloaded.
In this case, the common solution is to have some kind of automatic handling of incoming messages. A few people who are very popular have set up filters which only admit personal messages either from people on a list of their friends, or whose subject begins with the word "URGENT". For all other messages, the filter will send a piped response explaining
"I get more mail than I have time to read. Therefore your message was automatically filtered out. If you really and urgently need to write to me, send a new message whose subject begins with the word 'URGENT'".
Some companies who get much e-mail have more advanced filters, which can look at the content of the message and try to deduce its importance, and who in the company should handle it. They might also require people sending e-mail to include certain keywords in the subject, and reject messages without these keywords with an explanatory rejection message.
Such methods may, of course, give somewhat less good service to customers. So the company must weigh the cost of handling all mail personally against the benefits of good customer relations. This will, of course, vary with product, price and how often customers contact the company. A company, which sells products costing tens of thousands of dollars, can afford to pay more to handle e-mail from their customers, than a company which sells products costing only a few dollars.
Many companies try to replace responding to support questions from users, with automatic help systems on the web, containing answers to commonly asked support questions. Such systems are sometimes called FAQ systems (Frequently Asked Question). Most FAQ systems are, however, not very good at understanding the customer's problem and finding the right response automatically. To setup a really good FAQ system requires that you anticipate the many different ways in which people can pose the same problem. To anticipate this, a good way is to manually monitor a large number of user queries and check that they got the right response, but to do this is a large effort.
Software aid in clients
Most tools for coping with much e-mail are implemented in mail clients:
Filtering facilities are a great help. They can filter incoming messages to different folders, or mark messages in ways which makes it easy to get rid of uninteresting messages. Many people do not use filtering, because the facilities are too difficult to set up properly. One particular set-up problem is the ordering of filtering conditions. Sometimes, filtering conditions must be performed in a particular order, and understanding this is sometimes a problem.
Mailing lists are one cause of problems. If your e-mail software knew which mailing lists you subscribed to, several facilities could aid you in coping with too much e-mail. Your mail could set up filters automatically to take every mailing list to a particular folder. It could also automatically avoid duplicate messages, for replies to messages coming from mailing lists. Finally, it would be easier to subscribe and unsubscribe from mailing lists if this is done through commands built into the mail client.
It would also help if you could sort the mailing lists, to which you subscribe, in a priority order, and have help reading new messages in this order.
A facility to read new messages, one thread(1) at a time, and to be able to skip reading future messages in one thread, is common in Usenet News readers, but is not common in e-mail software.
(1) thread=set of messages which are directly or indirectly replies to each other, see the figure to the left.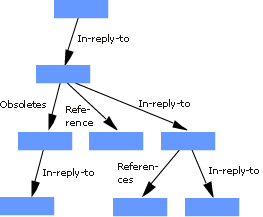 Thread structures, which can be used for filtering