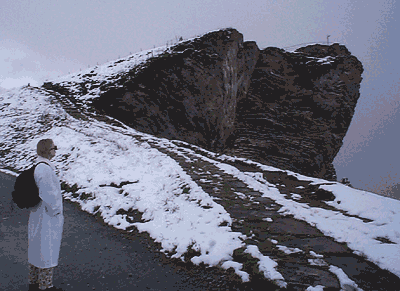 View from the top of the First cable car ride.


Männlichen
Take the small-cabin ride from Grindelwald to Männlichen, and then walk the wonderful mountain walk from Männlichen to Kleine Scheideck. The sight of the Eiger and Jungfrau is breathtaking.
Another place with wonderful sights of the Eiger and Jungfrau is Mürren.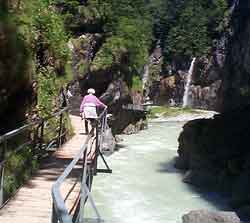 Aareslucht
A normally broad river is pressed through a narrow ravine only a few feet wide. You walk on a narrow ledge hanging on the wall of the ravine.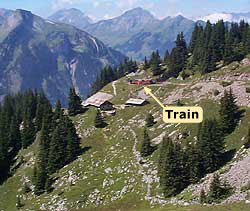 Schynige Platte
Cog-wheel train, close to Interlaken, which rapidly takes you from the world down-there to the different world up-there. You cannot see the really high alp peaks from down below, but going up, the high alps seem real and the world in the valleys seems very distant and unreal.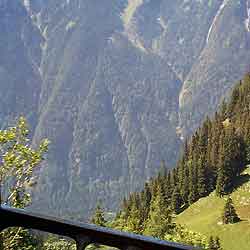 View from the
train window.

Top station.

Harder Kulm and
Heimwehfluss
Two cable-pulled mountain lifts, directly from Interlaken. They do not take you above the tree line, but they take you to heights from which you can make nice walks in the steep alp forests, including walking all the way down to Interlaken.

Kandersteg
Kandersteg has spectacularly beautiful alps and several mountain lifts, including a chair lift which takes you to a rodel ride. Rodel rides let you glide down the hill on a small rodel, a kind of toboggan. There are also rodel rides at Pfingstegg and Heimwehfluh.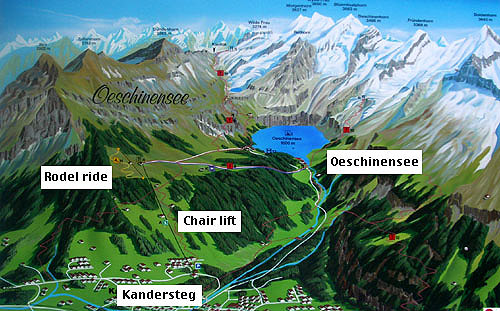 Map of Oeschienen reached by chair lift from Kandersteg.
Niesen
A cable-pulled mountain train takes you to the peak of Niesen. This peak, 2350 meters high, is surrounded by almost vertical slopes down.

Lungern
Lungern is a quiet town without the mass of tourists. But it has a very nice cable car, which goes up to one of the best chair lifts (see left picture) in the Jungfrau region. The ordinary train ride from Meiringen to Lungern goes through a 1002 meter high pass and offers many exciting views.
Twing
The bus from Brünich-Haselberg to Twing and Reuti goes along a high road on a ledge of the mountain with a steep drop. You have to trust the driver to go with this bus. From Twing goes a small-cabin ride to Käserstatt and Hochsträss.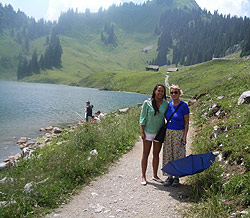 Stockhorn
Stockhorn is a very steep mountain, and a very beautiful lake at the middle station. The haze in the top background is because the mountain top was engulged in a cloud when the picture was taken.
High walks
One of the most exciting things to do is to go up with one mountain ride, walk on a high path to another mountain ride and go down there. If you are willing to walk several hours, there are many such opportunities. Some high walks which only last about an hour or two is from Männlichen to Kleine Scheideck, from Käserstatt to Mägisalp, from Planplatten to Hochsträss and from Grütshalp to Mürren.
One alternative is also to take any ride with a middle station to the top, and then walk down to the middle station.
Mountain transportation
The transportation to the hill tops is aided by different kind of mechanical devices: