Motivation
Motivation cycle:
Needs creates behaviour to reach goals
Goals creates new needs
Process vs. Content Two types of motivation theories

Content:

Static
Empasis on what motivates
Concern with individual needs and goals
Herzberg, Maslow, Aldefer, McClelland

Process:

Dynamic
Emphasis on the process of motivation
Concern with how motivation occurs
Vroom, Porter & Lawler, Adams, Locke, Heider, Kelley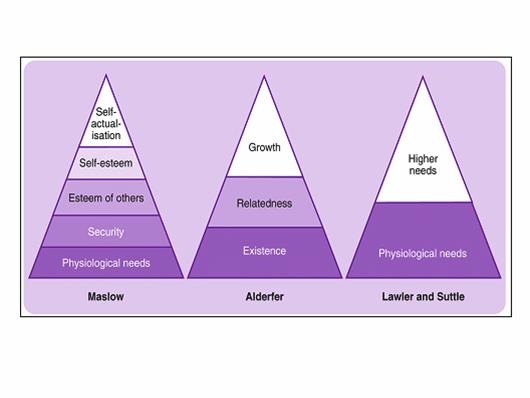 McClelland's Theory of Needs
Need for achievement - The drive to excel, to achieve in relation to a set of standards, and to strive to succeed. Want responsibility, feedback and some degree of risk
Need for power - The need to make others behave in a way they would not have behaved otherwise
Need for affiliation - The desire for friendly and close interpersonal relationships
About McClelland's Theory
High achievers are not necessarily good managers
People driven by affiliation alone make quite weak managers.
Affiliation and power together are closely related to managerial success
Herzberg's satisfiers and dissatisfiers

Hygiene factors (extrinsic):

Company policy
Status/promotion
Salary
Job security
Etc.

Motivators (intrinsic):

Sense of achievements
Recognition
Resposibility
Personal growth
The work itself
Etc.
Hackman and Oldman´s work design model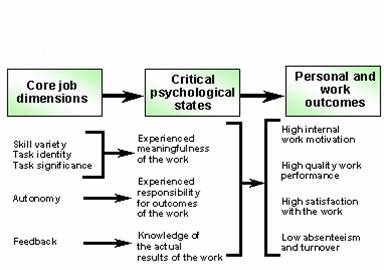 How do you implement it?
Combine tasks
Let people work in teams
Empower
Open feedback channels
McGregor's Theory X and Theory Y
Two distinct views of people:
Negative (Theory X) (lower needs)
Positive (Theory Y) (higher needs)
Managers view employees based on a group of assumptions
Based on these assumptions, managers tend to mold their behavior toward employees
Theory X Workers:

Dislike work
Must be threatened with punishment
Avoid responsibilities
Seek formal direction
Require security
Little ambition

Theory Y Workers:

View work as natural
Self-directed
Exercise self-control
Accept responsibility
Seek responsibility
Make innovative decisions
Process vs. Content Two types of motivation theories
Content:

Static
Empasis on what motivates
Concern with individual needs and goals
Herzberg, Maslow, Aldefer, McClelland

Process:

Dynamic
Emphasis on the process of motivation
Concern with how motivation occurs
Vroom, Porter & Lawler, Adams, Locke, Heider, Kelley
Goal-Setting Theory
Goals are a potent motivating force
Specific goals lead to increased performance
Difficult goals, when accepted, result in higher output than easy goals
Participation in setting the goals might motivate further
Set goals only, not the route to achieve it
FRAME
Goals should be:
Few
Realistic
Agreed
Measured
Explicit
Expectancy theory (Vroom and others)
Motivation = expectation*attr.
Strength of a tendency to act in a certain way depends on
Strength of expectation that the act will be followed by a given outcome
Attractiveness of that outcome to the individual
Attractiveness - The importance the individual places on the potential outcome or reward that can be achieved on the job; considers the unsatisfied needs of the individual
Performance-reward linkage - The degree to which the individual believes that performing at a particular level will lead to the attainment of a desired outcome
Effort-performance linkage - The probability perceived by the individual that exerting a given amount of effort will lead to performance
Porter and Lawler's expectancy model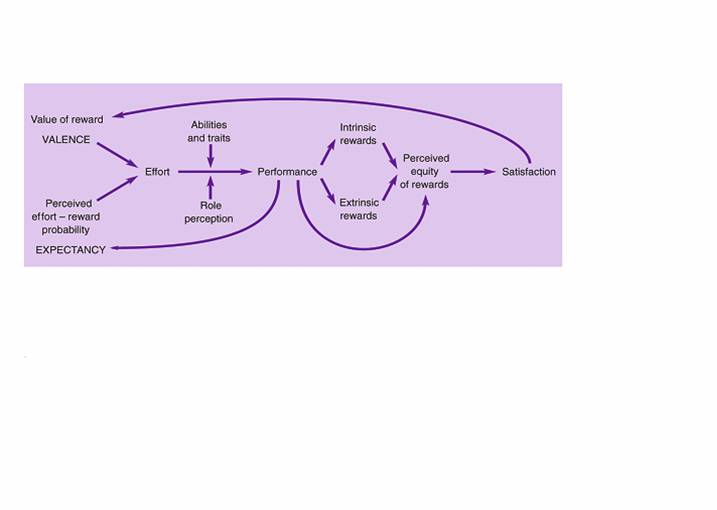 Equity Theory (Adams and others)
Employees weigh what they put into a job situation (input) against what they get from it (outcome)
Then they compare their input-outcome ratio with the input-outcome ratio of relevant others
If they perceive their ratio to be equal to that of relevant others, a state of equity exists otherwise inequity

Employee recognition programs
Using multiple sources to reward behavoiur and recognize publicly both individual and group accomplishment
Rewarding behavior with recognition immediately leads to its repetition
To maximize motivation potential, publicly communicate who and why is being recognized
Recognizing employee's superior performance often costs little
Employee involvement
A participative process that uses the entire capacity of employees related to decisions that affect them is designed to encourage increased commitment to the organization's success
Involve workers in decisions that will affect them
Increase their autonomy and control over their work lives
Include techniques with a common core
Employee participation
Participative management
Workplace democracy
Empowerment
Employee ownership
Variable-pay programs
Forms of compensation where a portion of an employee's pay is based on the measure of performance either of the individual, the organization, or both
Four widely used variable-pay programs
Piece-rate wages - fixed sum for each unit completed
Bonuses - a percent of annual pay based on company earnings
Profit sharing - based on a formula designed around company's profitability
Gainsharing - formula-based group incentive plan for improvements in productivity
Skill-based pay
Pay levels based on how many skills employees have or how many jobs they can do

Advantages:
Attractive due to flexibility for management
Encourages employees to acquire a range of skills
Facilitates communication and understanding of others' jobs
Meets needs of ambitious employees without a promotion in job title
Disadvantages:
Topping out - learning all the skills
Skills might become obsolete
Do not address level of performance
Belbin's 9 team roles
1 Implementer
2 Plant
3 Coordinator
5 Shaper
6 Specialist
7 Teamworker
8 Monitor/evaluator
10 Completer/finisher
12 Resource investigator


<