Last update: 28 July, 2012 by Jacob Palme E-mail: jpalme@dsv.su.se.
By phone
Call +46-8-16 16 67. This is my work number, but when I am at home, I automatically redirect calls to this number to my home number, +46-8-664 77 48.

Easiest times to reach me is in the morning, between 11-12 a.m. Saturdays and Sundays and sometimes also on weekdays. Western European Time (winter: GMT+1, summer: GMT+2). I do not mind at all if you call on weekends to discuss business.
By e-mail
jpalme@dsv.su.se I get very much e-mail, so I may not read your message until after a couple of days.
By fax
I am not reachable by fax anymore.
By postal mail
Fastest way to reach me by postal mail is at my home address:
Jacob Palme
Skeppargatan 73
S-11530 Stockholm
Sweden

Postal address to my office is:
DSV
Forum 100
S-16 440 Kista
Sweden
Face-to-face
I do not any more have any office room in the DSV building in Kista, so you will only find me there when I have some particular activity to perform at DSV. I do most of my work in my home.
To my office
By underground (subway) take trains from Stockholm in the direction of Akalla, exit from the train at the Kista centrum station, exit from the exit at the Akalla end of the subway station, walk to the right when you exit from the subway station, to the Forum building (Isafjordsgatan 39). Subway ride from Stockholm to Kista: About 20 minutes. Walking from Kista Centrum subway to Forum: About 10 minutes.
By taxi, drive to Isafjordsgatan 39, Kista and enter the Forum building.
By car, short-time parking is available at Kista Centrum.
International hotel and travel information for Kista, Sweden
Map of Kista Centrum: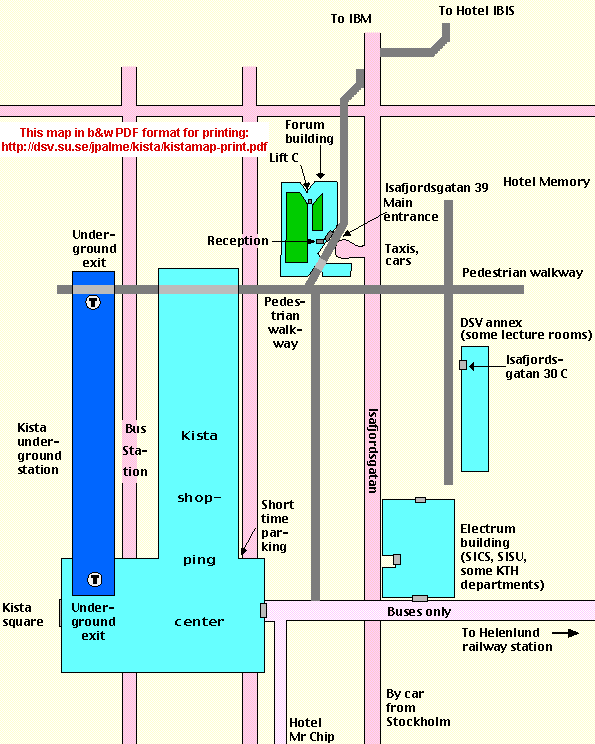 To my home
To get to my home, take the subway to the Karlaplan station, exit by the Tessinparken exit, find the street Strindbergsgatan, walk to Strindbergsgatan 38 (about 10 minutes walk from Karlaplan), then enter the yard, find the Skeppargatan 73 entrance, use the entry-phone (porttelefon).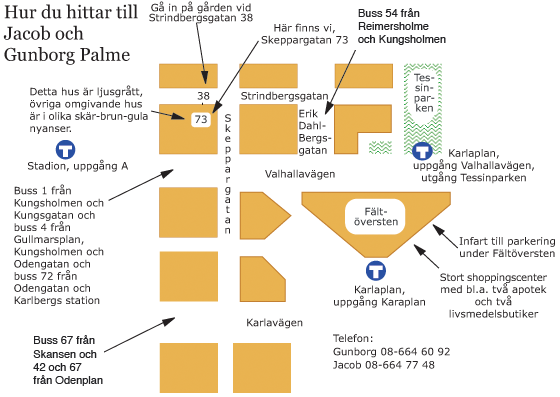 The end